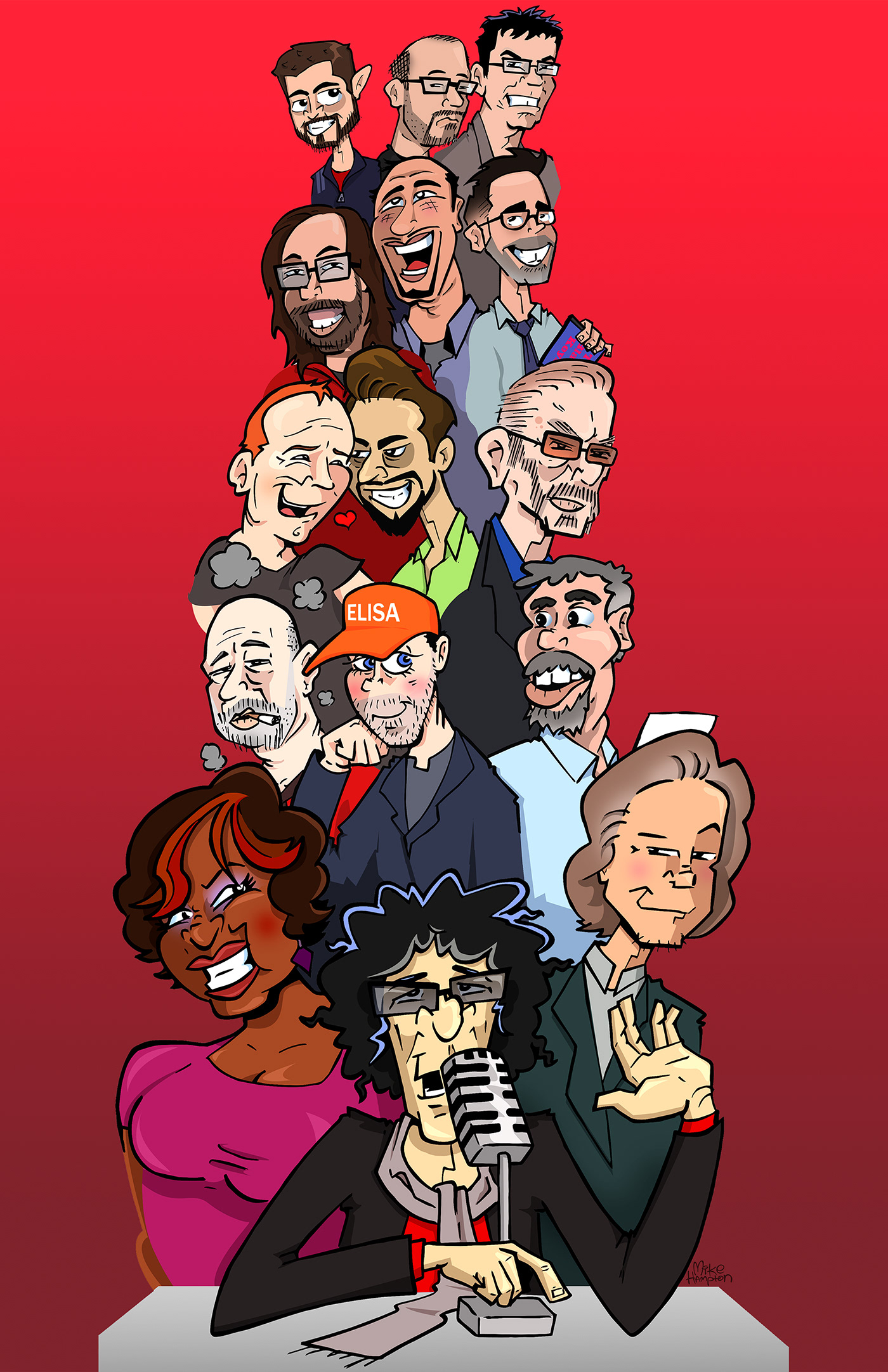 The Howard Stern Show, the groundbreaking #1 radio program has also a huge presence on the internet which I was excited to contribute to. The self-proclaimed "King of all Media" left terrestrial radio in 2006 and brought hundreds of thousands of listeners to Sirius satellite, a paid subscription radio service.
Just like radio has evolved, so has Howard. The one time "shock-jock" known for strippers and pranks, is now known for some of the most intriguing, in depth interviews with actors, musicans, and many others.
Being a long-time fan, it was an honor to create a body of work for the show, watching my art evolve as the show has. 


My first piece for the show was a collage of Howard, his long-time co-host Robin Quivers, sound effects guru Fred Norris, and the Stern Show staff that make their way on and off the airways with pranks, bits, and shtick. They are all what help make the show great.
My thought was, "what would these people look like if the Stern Show was an animated series?" With photos found mostly from HowardStern.com I created character versions of each of everyone from Baba-Booey to Scott the Engineer.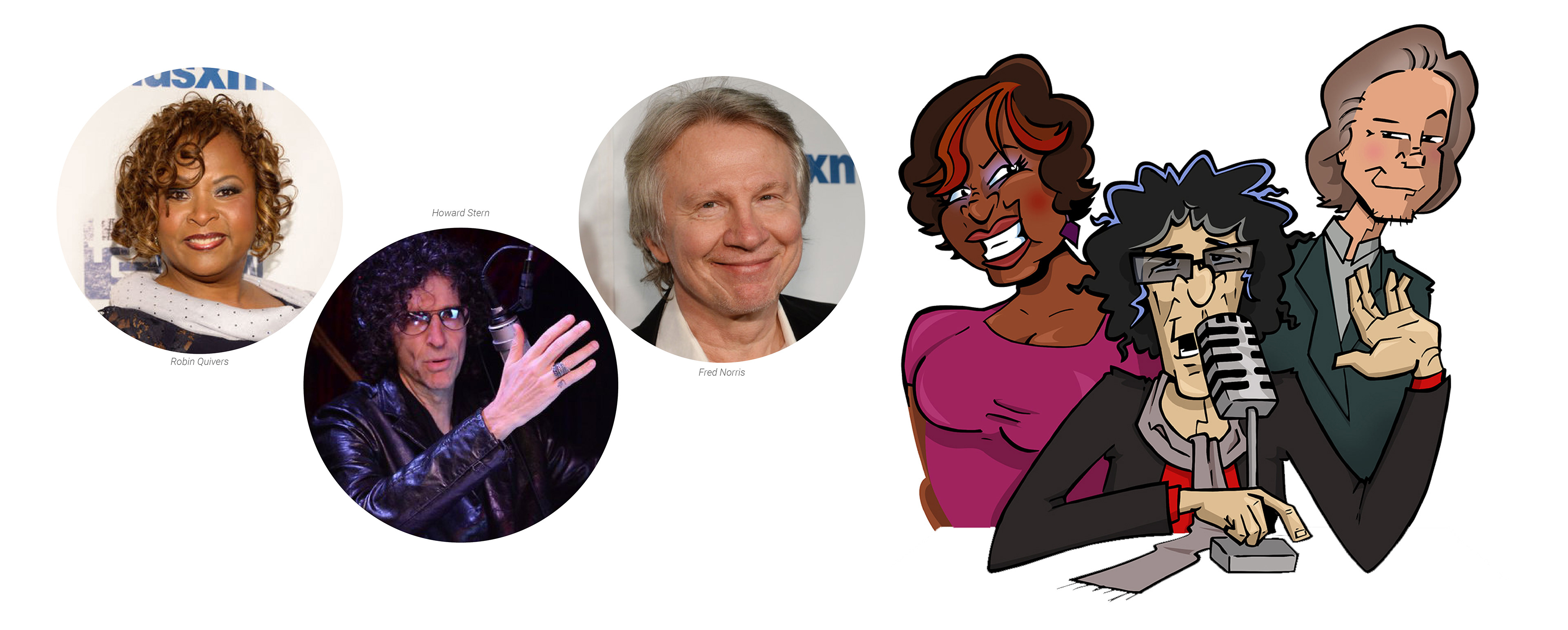 Creating a likeness of a real person in a cartoon drawing is more than just getting their nose right, or hairstyle perfect. It also includes capturing a part of their personality in the piece. Being a listener to the show since 2001 I have a pretty good grasp on each of the staff's on-air personalities.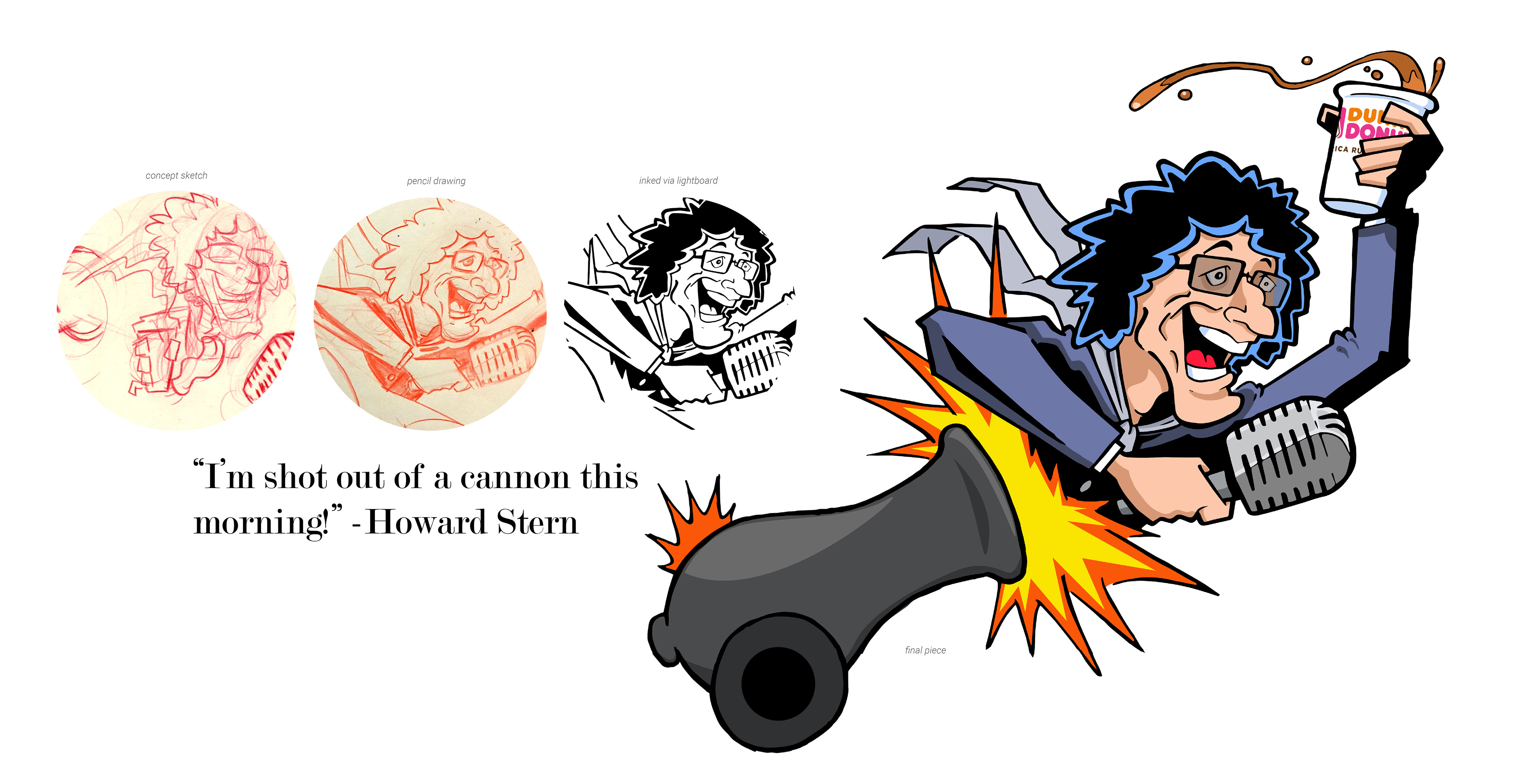 Many of my inspirations come from phrases said, or a segment heard on the show. For instance, Howard often uses the phrase "I'm shot out of a cannon this morning" after drinking his choice Dunkin Donuts coffee. (As Fred drops the cannon sound in the background.)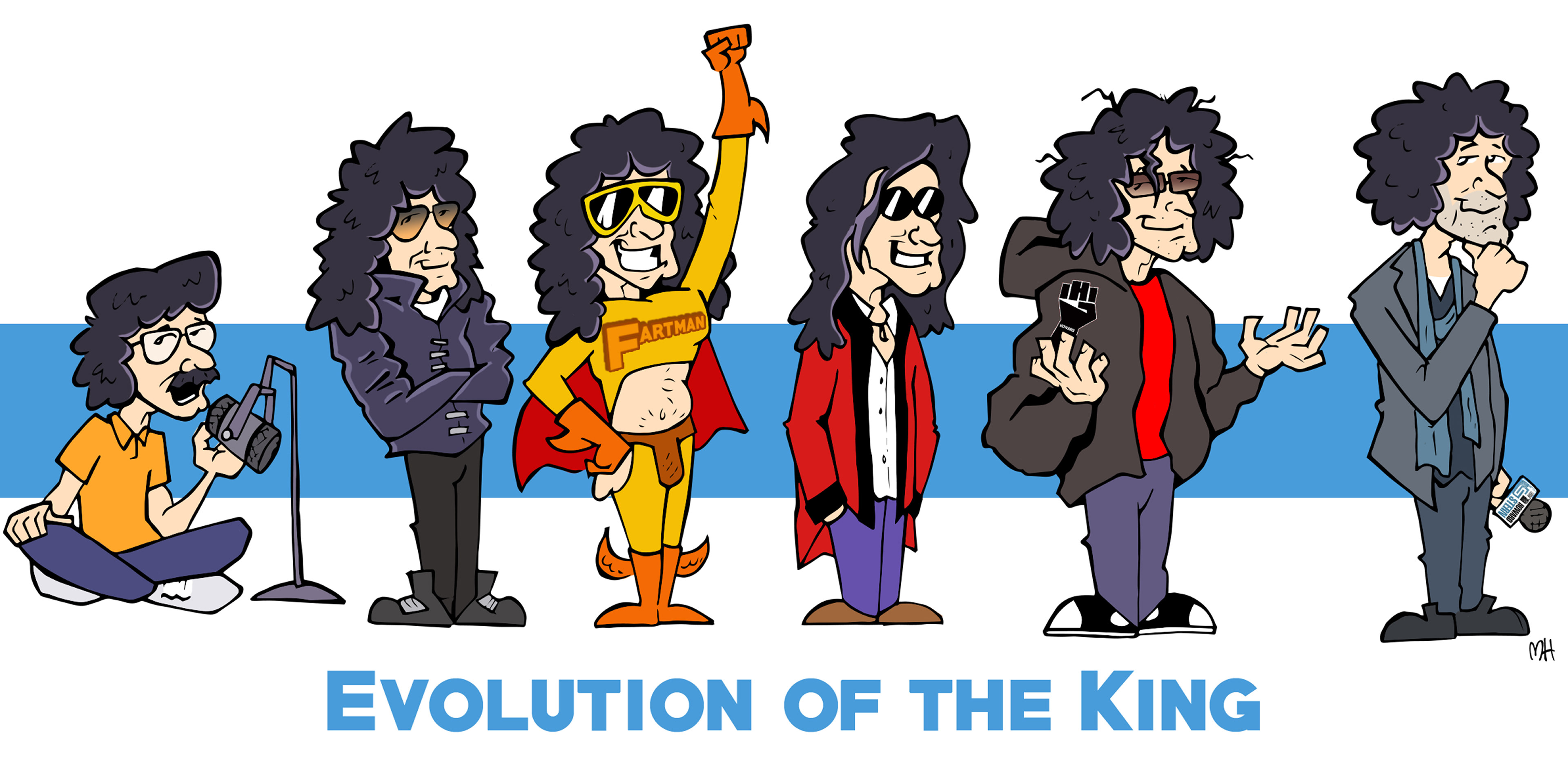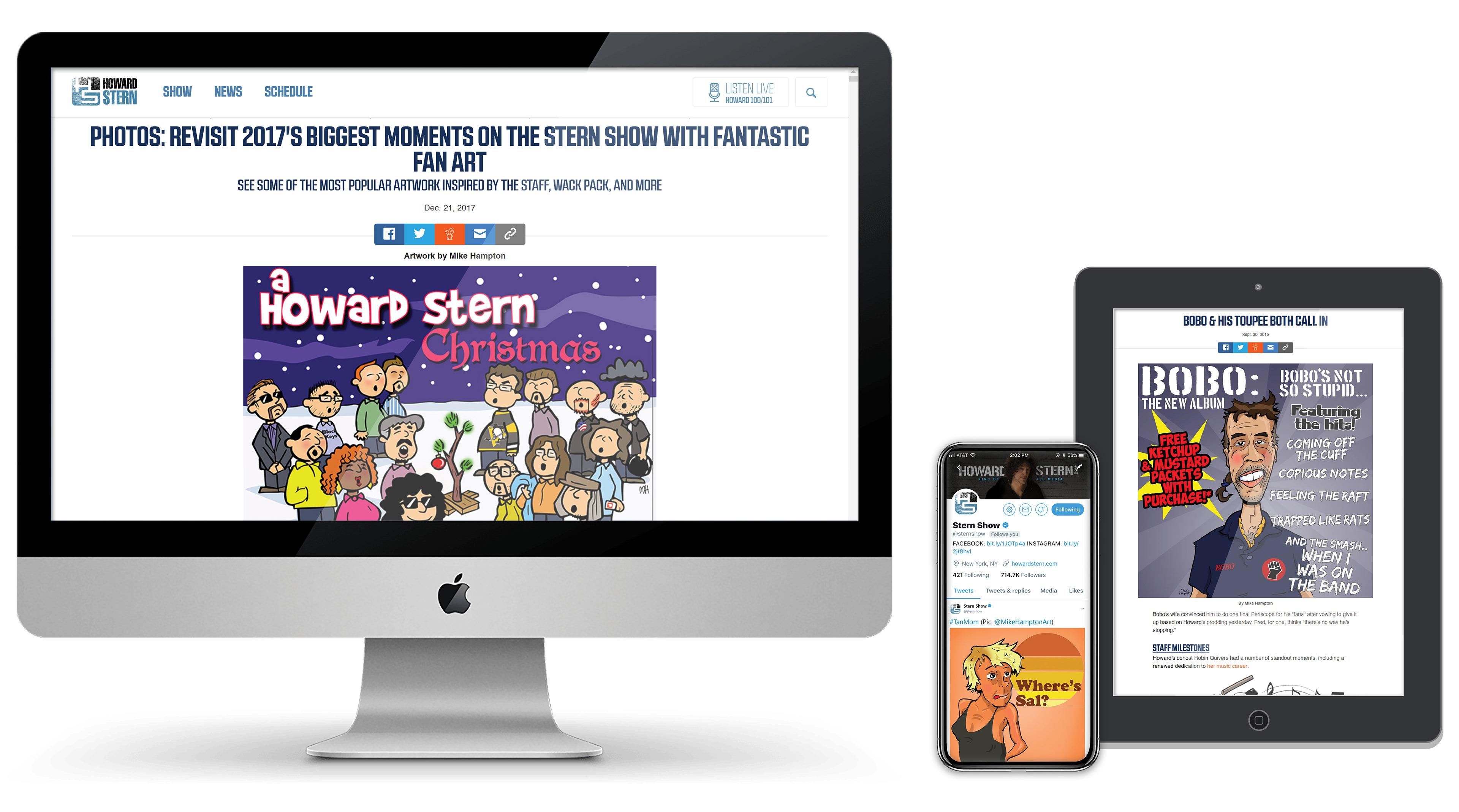 This body of work continues to grow as does Howard's number of listeners on SiriusXM, which as of 2016 was over 30 million subscribers.
I've created everything from logos for each of the staff, to pieces for several members of the infamous Wack-Pack (a rotating group of interesting callers) to a Charlie Brown rendition of the entire Stern Show staff for Christmas.
As long as the bits and the laughs keep coming, I'll keep it up and  "hit 'em with the Hein."